Tile floors do give an enchanting look to your house and in addition to that, they are durable, better at retaining water than other floorings, etc. But if you have tile flooring at your house, you must also be aware of the disadvantages that come with it.
One such disadvantage of tile floors is that they can be slippery at times. And slippery floors aren't just bad for hygiene, but they can also cause serious injuries. Therefore, it is always recommended to keep your tiles dry. You can even look for a Best tile cleaning company and use its services for perfectly clean and dried-up floors. In this blog, you will read about How To Keep Kitchen Tiles Slip-Free?.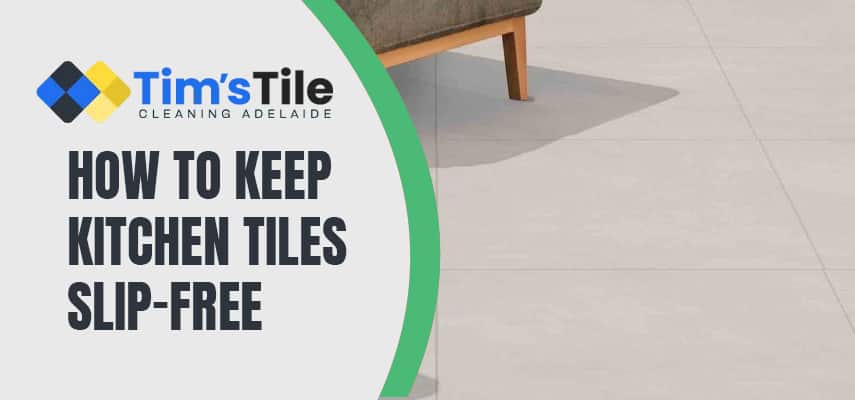 Some Methods to keep kitchen Tiles Slip-Free:
Cover the floor with carpets or rugs- Covering a part of the floor with a rug or carpet is one of the easiest methods that can be used by you to make the floor less slippery. This method requires the least amount of effort and is also quite effective. The main problem that you may face with this method is the limited coverage provided by the rugs. And you might also need to use an adhesive to stick the rug in one place.
Foam Flooring- Foam floorings are like mats that are installed over the tile floors to make the floor non-slippery. These come in various sizes and designs. It does not take much time to install the foam flooring and you can go with it if you want to cover any part of the floor specifically because covering the entire floor will take away the beauty of your tile floor. If your floor remains too wet most of the time, then foam flooring might not be the best option for you.
Floating Floors- If you are fine with compromising the look of your tile flooring, you can go with a floating floor to make the floor slip-free. There are various floating floor options available and you can choose one based on your pocket size and the kind of design you want. You can even get a real wood flooring or laminate the entire floor. The problem with installing a floating floor is that it is a very labour-intensive method, might strain your pocket, and can damage the underlying tile. And if you feel that you might want to switch to original tile flooring, this is not the best option for you in such a case.
Hire Professional Tile Cleaning Services- If you have some serious problem with your kitchen tiles, you should take professional services in such cases so that no one gets hurt due to the slippery tiles. You can first consult the tile cleaning company and choose your service accordingly. Taking professional help will help you to get rid of such problems for good. And you should immediately seek professional help for such problems which might be dangerous for any person.
Conclusion:
Tile floorings are the beauty of your home and thus, you should keep it clean and beautiful. In addition to that, you should also make sure that your home is overall safe for all the members. You can take help from tile cleaning companies to get perfect floors for your home and kitchen. Our staff have Certificate III in Cleaning Operations.