Cleaning pool pavers in Adelaide is the removal of debris from the surface of a swimming pool. It can be done by hand or with power tools. If you have a large area to clean, you may want to consider hiring a professional pool cleaner. However, if your yard is small and there are only a few pieces of debris that need to be removed, then you can probably do it yourself. Otherwise, you always need professional help.
There are many different types of pool paver cleaners that can be used. Some are portable and others are stationary. The stationary models weigh over 100 pounds, so they are not very easy to move around your yard or onto your patio if necessary. Portable models weigh less than 50 pounds, making them easier to move around when necessary. You should choose a model that meets your needs and budget because each type has its advantages and disadvantages. For professional help Cleaning Pool Pavers in Adelaide, contact our company, Tims Tile Cleaning Adelaide.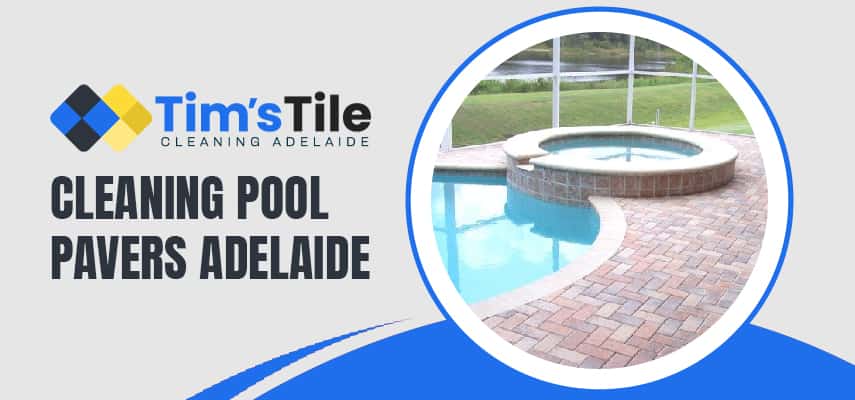 How Our Professionals Deal With Pool Pavers and Clean Them
Cleaning pool pavers is necessary if you want to keep your pool looking its best. This process includes cleaning the pool and also cleaning any dirt or debris that has built up on the surface of the pavers.
Our Pool Pavers Adelaide Cleaners consider first using a good vacuum cleaner that can reach deep crevices and clean them. We power wash the pavers with a high-pressure hose attachment. This will remove any dirt or debris from the surface of your paver. Also, we determine what kind of debris you have on your paver by taking off as much of it as possible with a wet cloth before scrubbing it with a stiff brush or sponge. Then, we use a strong brush attachment on the power washer to scrub down the surface of your pavers so that we can remove any dirt that may be stuck there. If there are any stains or spots left behind by algae growth, we use an elbow grease scrubber to get rid of them.
After this process has been completed, our floor cleaning specialists apply sealant on top of all stains and dirt on your pavers (and if necessary, even around the perimeter). This will prevent future staining and help keep water out of these areas longer than if they were not sealed properly!
Benefits Of Having Clean Pool Pavers
When you have a pool, you will want to keep it clean. You do not want algae or dirt in your pool, as this could be harmful to your family members. If you are looking for a Cleaning Pool Pavers Adelaide and a more affordable option, then your time has come. There are many benefits of having Cleaning Pool Pavers in Adelaide that can help you keep your pool clean and safe.
Simply, call us to get your pool pavers cleaned by our professional cleaners at an affordable price. The cleaning of your pool pavers will make them look fresh and clean again. This will help you keep the lawn looking great all year round. You can also enjoy the beauty of your garden without worrying about any damage caused by weeds or bugs that can ruin your view or make it look messy.
The help of Cleaning Pool Pavers Adelaide service is beneficial for several reasons. It helps to maintain the appearance of your home as well as keep it clean and tidy. It also helps to prevent dirt from getting into the swimming pool itself which could cause problems later on down the line when it comes to maintaining water levels in it or even when using it for fun activities such as water sports or just relaxing after work hours.
Why People Are Always Here For Cleaning Pool Pavers In Adelaide
Cleaning pool pavers in Adelaide is easy to do when you hire our Professional Pool Paver Cleaners. Our team has experience in cleaning pool pavers in Adelaide and our experts will help you with this job with perfection. Our staff have Certificate III in Cleaning Operations.
We use cleaning pool pavers as a reliable way to keep your pool looking its best and make sure that you get the best results with our latest cleaning tools and machines.
Pool pavers are made from different materials and can be made from stone, tile or plastic. They are used in both inground and outdoor pools and we clean all of them with 24/7 availability. It means you are eligible to get Emergency Cleaning Pool Pavers Adelaide service. When you are looking for the best way to clean up your pool paver, it is important that you have the right equipment for the job and that our professionals have all the required tools and equipment. Cleaning Pool Pavers in Adelaide are even on the same day available. This will help prevent algae from growing on the water's surface which can be dangerous for swimmers.
Hiring our Cleaning Pool Pavers Adelaide is also a great way to give your backyard a facelift because we provide a unique and stylish look by using our eco-friendly products and cleaning solvents. So, call us when you want to get several benefits from our company, Tims Tile Cleaning Adelaide. We also offer free quotes.

Location: 45 Currie St, Adelaide SA 5000