What is Terrazzo Floor?
Terrazzo is a type of tile that has been around for hundreds of years. It was originally developed by the Romans, and it is used on floors all over the world today. Terrazzo Cleaning Adelaide is made from various types of crushed glass, ceramic and stone combined with cement. The result is a durable, resilient flooring material that can be installed in any room of your home.
Terrazzo flooring is a type of concrete that is usually used in public buildings and commercial spaces. It is made by mixing a cementitious material with crushed glass, marble, or other powdered stone. The mixture hardens when exposed to both heat and water. Terrazzo flooring is available in many different colours, patterns, and textures. Terrazzo is one of the most popular choices for indoor flooring options because it's durable and beautiful. However, proper maintenance can help make terrazzo floors look like new for years to come.
If you're looking for ways to keep your terrazzo floor looking great, consider hiring professional tile cleaners from our company, Tim's Tile Cleaning Adelaide to clean it regularly. We offer several facilities with the service of Terrazzo Cleaning in Adelaide.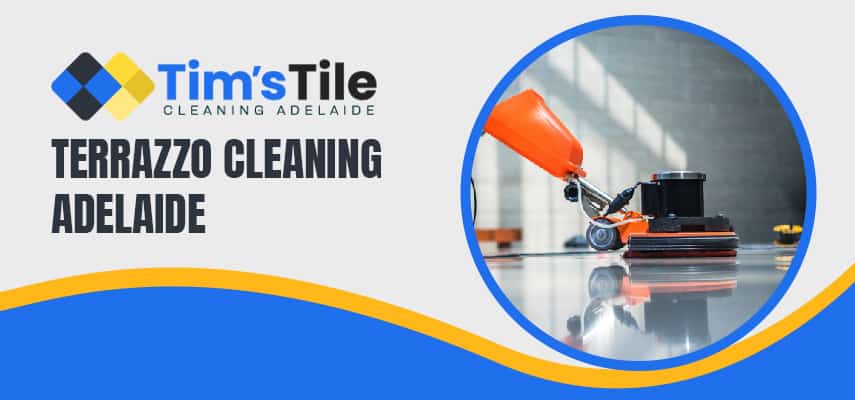 How We Manage The Procedure of Terrazzo Cleaning
Terrazzo floors can be a very important part of your home. It can be the focal point of many rooms, and it is important to keep it looking clean. We help people in Terrazzo Cleaning in Adelaide. The process of Terrazzo Cleaning Adelaide step by step in detail can be divided into several parts: the preparation, cleaning, scrubbing and the actual process.
The preparation entails cleaning the surface and removing any dirt or stains. The actual process involves using different types of cleaners to remove stains, restore shine, and protect it from future damage.
Terrazzo can be sealed with wax or polished with an acid-based sealer. Still, we follow a pattern. We clean the terrazzo surface with water and soap, use a sponge to scrub the surface and then scrub the floor with a stiff brush.
After that, our Terrazzo Floor Experts rinse the surface with water and dry it off and apply polish on the terrazzo floor using a buffing machine.
Finally, we seal the polished terrazzo floor with wax.
Why You May Need Regular Terrazzo Cleaning
The benefits of terrazzo floor cleaning are numerous. To give these benefits, our professionals are always ready and equipped with the required tools and equipment. We use only quality products and methods which will not damage or discolour your terrazzo flooring. Some benefits are mentioned below:
The increased life expectancy of your terrazzo floors.
Terrazzo floors are durable and scratch resistant. They will stand up to years of foot traffic without needing to be replaced or repaired. So, keep them clean and increase their sustainability.
They look great and add a unique element to any space if you follow a regular Terrazzo Cleaning routine.
Improving air quality has always been a great benefit when you keep something clean. So, why not Terrazzo floors that are easy to clean with just a damp mop or sponge.
If you get expert help, you can also save your money and time. Call us and get our professional services at affordable prices.
Why People Call Professionals Available At Tims Tile Cleaning Adelaide
The best part of our facilities is that we offer cleaning services for all types of terrazzo floor designs. There are many different types of terrazzo floors including marble or granite tile designs with a marble appearance or decorative designs such as mosaics or mosaics with gold leaf borders making them look like marble tiles but with more texture and depth than normally polished.
Our Terrazzo Cleaning Adelaide service is a great way to keep your terrazzo floor in pristine condition. This is possible with our eco-friendly cleaning solutions.
We use only the best equipment, products and techniques to ensure that your terrazzo floor is cleaned thoroughly.
Our prices are very competitive with other companies offering similar services, but we offer a better quality service that lasts longer than others. Our staff have Certificate III in Cleaning Operations.
Our Terrazzo Floor Specialists are certified and reliable as well as work dedicatedly to offer customer-friendly Terrazzo Cleaning Adelaide services.

Location: 45 Currie St, Adelaide SA 5000
Terrazzo Cleaning Adelaide
Call us at 08 6835 6085 Terrazzo Cleaning Adelaide
Location: Adelaide, SA, 5000, Australia