What is Timber Floor Polishing?
Wood floors are a great addition to any home. Wood floors are a classic. They add warmth and character to any room. But in order to maintain them, you need to know what they are made of and how to maintain them.
There are many types of timber wood flooring that can be used in a home: solid hardwood, engineered wood, bamboo, cork and vinyl. Solid hardwood is the most expensive option but it is also the most durable. It does not require any sanding or finishing which makes it very easy to maintain.
Engineered wood flooring is made up of multiple layers of wood that have been glued together with an adhesive that holds them together tightly. This type of flooring is not as durable as solid hardwood but it can be sanded or refinished if necessary without having to replace the entire board like with solid hardwood floors.
Bamboo flooring has become popular over recent years because it is sustainable and eco-friendly but it does require more maintenance than other types. If you want to get proper maintenance and care to maintain their beauty, call us. Our professionals tile cleaners will serve you with the most beneficial Timber Floor Polishing Adelaide and timber floor cleaning services.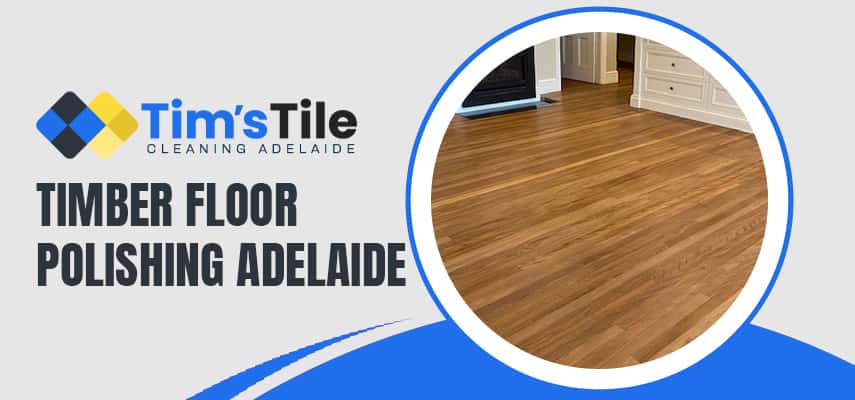 How We Process Timber Floor Cleaning and Polishing
Timber floor polishing is a process in which the timber floor is buffed and waxed to leave it with a shiny finish. It is done to maintain the floor's appearance. It restores the natural appearance of a timber floor by removing dirt, stains, and other surface imperfections. The process can be divided into three stages:
This stage includes sanding the timber floor to ensure that it is clean and uniform. We prepare the surface of the timber floor. This also includes adding a sealant to ensure that any imperfections are removed. The materials used for this process depend on the type of floor, but they typically include a buffer or soft cloth and stain or varnish (depending on the desired finish). Well, always ask for floor inspection from tile cleaning specialists to get the right preparation.
This stage includes using a buffer or soft cloth to polish the surface of the timber floor until it has a shiny finish. In order to polish a timber floor, it is important to remove any scratches and imperfections left by sanding. In this process of polishing, our Floor Cleaning Specialists use a combination of buffers, clothes, and machines to achieve an optimal finish.
This final step in Timber Floor Polishing is the effective and main step. This involves adding a clear coat or sealant to the previously polished surface to protect the timber floor from liquids and stains. And, we are trained to maintain the timber floors by applying periodic coats of sealant in order to protect them against wear and tear. Our wax polish will protect your timber floor and keep it protected for a long time.
Benefits Of Timber Floor Polishing Adelaide Services
Timber floor polishing is a process of shining and cleaning the floor. It is a very important step in the maintenance of timber floors. The benefits of timber floor polishing and cleaning are Improved aesthetics – Reduced risk of scratches and stains – Reduced noise levels – Improved safety for people in your home and many more. Some more benefits of Timber Floor Polishing are:
Polishing timber floors is a great way to remove dirt, dust and grime from the surface of the timber.
The process of polishing also helps to restore the natural appearance of the timber floor. It means it improves the appearance of the floor.
Professional floor cleaning basically gives it a new life or extends the lifespan of your floor.
Professional cleaning makes it easier to maintain.
Reduces noise level as you will not have to work on your own because expert service providers will do everything for you.
If you get expert floor cleaning, it reduces dust in the air. This will help to improve the air quality as well.
Why Choose Us, Tims Tile Cleaning Adelaide?
We, Tim's Tile Cleaning Adelaide, are a team of skilled professionals who are passionate about our work. We provide the best timber floor cleaning and polishing services in Adelaide. We have been in the cleaning and polishing industry for over 25 years. We are a family-run business that provides services to homeowners, landlords, builders and developers.
We clean and polish timber floors using a range of techniques that ensure your timber floors are thoroughly cleaned and polished. We use different techniques depending on the type of timber floor, the condition and the type of wax used. Your timber floors will be protected as our Floor Cleaning Specialists use only eco-friendly materials to clean or polish the floor. This is to ensure that your flooring remains in pristine condition and protected from potential accidents.
Our professionals will also remove dirt and grime from the floor and make sure that you are getting possibly fast services at your discount. So, call us and get discounts and offers on Timber Floor Cleaning Adelaide services. Our staff have Certificate III in Cleaning Operations.

Location: 45 Currie St, Adelaide SA 5000
Timber Floor Polishing Adelaide
Call us at 08 6835 6085 Timber Floor Polishing Adelaide
Location: Adelaide, SA, 5000, Australia