Professional Service For Marble Honing In Adelaide
When the stone slab has been ground to an even, smooth surface, that is what is meant by the term "honed." This finish is produced by ceasing polishing before the final stage, giving the stone a matte appearance and a velvety feel. It's no surprise that there are people who specialize in honing this stone material to perfection – this is what we do. We are professionals working at Tims Tile Cleaning Adelaide and offer a range of cleaning and honing services for marbles. Our experts offer Marble Honing Adelaide service, marble restoration and polishing, as well as reinstallation services.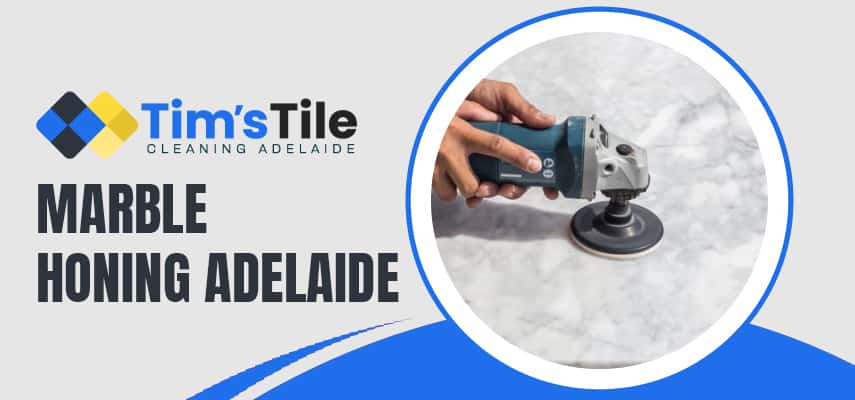 How We Do Marble Marble Honing In Adelaide
Marble floors, countertops, and walls can be polished to a high gloss or matte finish. Marble honing is a process of polishing marble surfaces to make them look new. It is a process of polishing that removes the outer layers of a stone to reveal its natural beauty. The honing process consists of two steps: sandpaper cleaning and honing.
Sandpaper is used to remove scratches, swirls and other imperfections from the surface of the marble. There are different grades of sandpaper but for most applications, a medium grit will do. The finer the grade, the more polish our Local Tile Cleaners will get with each pass over the surface.
After this, we move on to diamond; this is what makes our job so easy! Diamond is a vital part of your stone's life story because it's what causes water molecules to attach themselves to its surface so they can be absorbed into it instead of sticking in tiny crevices where they won't be able to evaporate. When we're done with the marble honing session, remove those pesky scratches that appear when water hits your marble again, and then we use a soft cloth or towel dipped in liquid soap (minus any detergents) and rub gently against your stone until all traces of polish are gone. Our process of Marble Honing Adelaide is very effective and can be done within the hour. So, make a quick call to our professionals.
How Marble Honing Can Benefit You
Marble Honing is the process of smoothing or polishing stone surfaces.
Marble Honing services can be used on different types of stones. Stone surfaces are polished to make them smooth, uniform, and stain resistant.
The Marble Honing process helps to remove the natural etchings that are present on the surface of the stone due to its crystalline structure.
Marble polishing is a chemical-free and environmentally friendly method used for making stone surfaces more even, durable, and resistant to stains. It does not require any harsh chemicals like acid-based cleaners or abrasives like sandpaper for cleaning marble surfaces as it uses water only with an acidic solution which acts as a polish for this type of stone.
Marble honing allows fractures to be repaired quickly and easily by removing excess material from around them.
Why Choose Experts From Tims Tile Cleaning?
Our company for Marble Honing Adelaide has been in the business for over 30 years and has been providing quality marble polishing and restoration services to various customers.
Our company offers a variety of services including marble polishing, honing, re-honing, repairs and restoration.
The company also specializes in honing and re-honing of natural stone, granite, terrazzo floorings, travertine and slate.
In addition to our standard Marble Honing Adelaide service, our professionals offer a variety of other services such as cleaning & sealing, acid etching or sandblasting treatments.
Our Marble Honing Adelaide team is made up of highly experienced professionals who are skilled in all aspects of the trade. They are dedicated to providing customers with high-quality workmanship at an affordable price.
We are also famous for providing free quotes and advice on hiring services for Marble Honing in Adelaide.

Location: 45 Currie St, Adelaide SA 5000
Marble Honing Adelaide
Call us at 08 6835 6085 Marble Honing Adelaide
Location: Adelaide, SA, 5000, Australia