What Is Outdoor Tile Cleaning?
The process of Outdoor Tile Cleaning can be as simple or as involved as you want. Professionals use a steam blaster, pressure washer, or air scrubber to clean outdoor tiles. Outdoor Tile Cleaning Adelaide is a process that involves the removal of stains from tiles, and grout and even sealing the tiles that are installed outside homes. Outdoor tile cleaning is a lot more than just cleaning your outdoor tiles, it is also about maintaining them in good condition. If you want to prevent stains from appearing on your outdoor tiles, then you need to get them cleaned.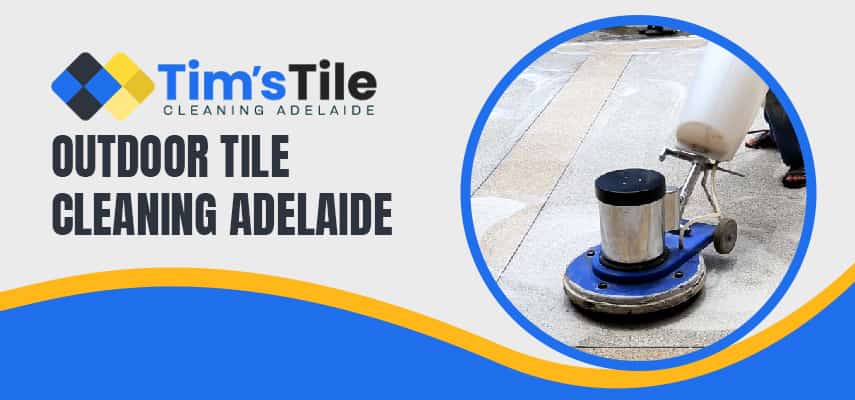 How Our Professionals Manage the Whole Process of Outdoor Tile Cleaning In Adelaide
The first step in getting your outdoor tiles cleaned is by assessing their condition. We assess the level of dirt, grime, mould and moss on your outdoor tiles. We do this by looking at the colour of the surface of the tile or by taking a look at its texture. Our Outdoor Tile Cleaners also check if there are any cracks or chips in it as this can lead to leaks or cracks that will require repairs later on. If we find any damage we repair it.
Then, we prepare the area for cleaning and we begin the process with a thorough vacuuming of the surface area.
We will then use our specialized equipment to remove all traces of dirt and debris from the surface and consider cleaning the tile with one of our professional cleaning solutions. We also do spot-cleaning of any areas that need it.
We will also restore its beauty by applying special finishes so that you can enjoy the best look possible without having to pay extra money for it. No mess after we finish cleaning your surface.
Afterwards, we will apply a high-quality protective coating over the cleaned area using non-toxic spray paint. This step is essential because it provides an extra layer of protection against future stains and damage caused by rain or other elements.
Our tile cleaning specialists ensure that you will not get any chemical residue left on the surface of your outdoor floor tiles after we have finished cleaning them. Our professional team will remove all dirt, dust and other materials from your surface so that it looks like new again afterwards. The process of Outdoor Tile Cleaning Adelaide is simple and we do it professionally.
The Benefits Of Outdoor Tile Cleaning With Experts
The benefits of using the services of an outdoor tile cleaning company are many. The most obvious one is that your tiles will be clean and free from grime, dirt and bacteria. This will make them look nicer and more hygienic, but it will also make them last longer.
There are many other benefits too. Firstly, you won't need to worry about the mess that might be left behind by a DIY job gone wrong. Secondly, you can choose the time and date that suits you best for a visit from an outdoor tile cleaning company. Thirdly, they have access to all sorts of tools and equipment which means they can do a better job than you ever could on your own. Finally, it's worth remembering that there are lots of companies to choose from so you'll be able to find one with great reviews and good feedback from past customers.
Why You Should Choose Tims Tile Cleaning In Adelaide
You will need to choose an expert who can provide professional services at affordable prices being professional at work. There are so many services that can be availed by any number of companies but they all differ in terms of quality, price and service standards offered by them. But choosing the right option like Tims Tile Cleaning Adelaide can make your day. Here are some reasons why?
Our company's experts are very talented in the job of Outdoor tile cleaning.
We offer high-quality services at affordable prices so that you get value for money when hiring us for such services.
Our Outdoor Tile Grout Cleaners use the most advanced equipment to clean your outdoor floor tiles. It is safe for you and your family as we do not use machines or any dangerous substances that may damage the tiles while cleaning.
We offer free estimates and we will arrive at your place on time to prepare for the cleaning job.
We are a team of professional tile cleaners and we have been cleaning outdoor tiles for the past 25 years.
Our professionals have the right tools and the right knowledge to clean your outdoor tiles.
You do not have to worry about inhaling harmful particles when we are cleaning your outdoor tile surfaces because we use eco-friendly chemicals that are safe.
Our Outdoor Tile Cleaning Adelaide's experts guarantee fast results that meet your expectations.

Location: 45 Currie St, Adelaide SA 5000
Outdoor Tile Cleaning Adelaide
Call us at 08 6835 6085 Outdoor Tile Cleaning Adelaide
Location: Adelaide, SA, 5000, Australia