Quarry Cleaning In Adelaide, Know About Our Professional Services
Quarry cleaning is a professional treatment for removing all the rock and debris from a quarry floor. Quarry floor cleaning is an important procedure as it has to be done properly to avoid problems with the quarry floor by considering the safety of the environment. This type of cleaning can be done with several homemade techniques and professional methods, but professional quarry cleaning is more efficient. Our company Tims Tile Cleaning Adelaide for Quarry Cleaning Services in Adelaide is a professional company that offers a wide range of services. Our team is well-trained and has years of experience, which means that we can provide you with a service that will meet and exceed your expectations. So, call us and book our service providers for Quarry Cleaning in Adelaide.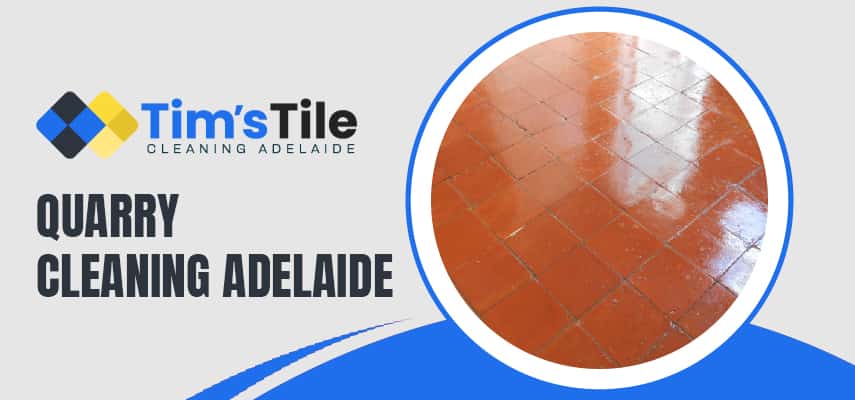 How We Proceed With The Quarry Cleaning In Adelaide
Tile floor cleaning is a process that extracts stains and dirt from the tile surface. It is a long and tedious process with many steps. The quarry cleaning removes any unwanted material, such as dirt and gravel, from the tile stones. During quarry cleaning, the stains and germs are removed with vacuum cleaning, quarry floor dry cleaning and quarry steam cleaning services.
First, we vacuum the floor and remove possible trash from the quarry floor.
We pre-treat the quarry floor and make sure we work accordingly.
We remove stains and prepare our professional cleaning solutions and methods.
Our team then uses floor steam cleaners for the quarry floor deep cleaning process. Our professional tile cleaners are well-trained to complete this step.
After that, we apply cleansers on the quarry floor and leave them for 10 minutes and then we use cleaning machines to brush and remove the stains.
Our Quarry Floor Cleaning Specialists complete this whole procedure by using our latest cleaning machines which are effective to clean the quarry surface and floor.
Manual and mechanical cleaning methods are also used by our experts as they are also common methods used to clean the quarry floor. Manual methods typically include sweeping, hosing down the floor with water, vacuuming and brushing and we do all with professionalism. In mechanical methods, we typically use a high-pressure hose to clear away dust and debris from surfaces, followed by a vacuum cleaner. If you want to choose your preferred quarry cleaning method, call our company, Tims Tile Cleaning Adelaide.
What Benefits You Will Get With Quarry Cleaning
Quarry floors can be effectively cleaned with two different types of equipment: wet or dry. Wet equipment uses high-pressure water jets or chemicals such as bleach to dissolve dirt from the floor. Dry equipment uses compressed air, vacuum cleaners and brushes to remove dust from surfaces. Quarry floors are usually dusty and dirty, making it a difficult environment to work in. Quarry floors often contain hazardous materials such as lead and asbestos, which can be harmful if they are not cleaned up properly. The benefits of quarry floor cleaning include:
Improved floor quality for a cozy walk is one of the reasons that people hire Professional Quarry Cleaning Services.
Quarry floor replacement can be more expensive than cleaning methods which can be effective at removing dust, debris and soil from the quarry. So, you can ensure that by hiring our expert quarry cleaning services because you can save your money and time as well.
You can remove both large and small particles of dust on the floor. So, it also enhances the appearance as there will be no more dust on the quarry floor.
It also improves the air quality as expert cleaning service providers will not leave a mess or waste cleaning material after giving you the services.
Why Choose Us For Quarry Cleaning Adelaide Service?
Tims Tile Cleaning Adelaide is a company that provides services to clean quarry floors and tiles. The following points will tell you about our company's specialities and what type of facilities it offers.
Our company's professionals use the latest technology to provide cleaning services for Quarry tiles.
The company has been in operation for more than 25 years now.
We have an experienced team of professionals who provide reliable and efficient quarry cleaning services.
A quarry is the most important source of floor construction materials, such as limestone, granite, marble and sandstone. And, we can clean all types of floors with our professional cleaning strategies.
Quarry cleaning can be done manually or by using heavy machinery. However, quarry cleaning without heavy machinery is very difficult and slow. So, we use all the required cleaning machines and equipment.
We are famous for providing the same-day Quarry Cleaning Adelaide service. It means you can get any time service from our company.
Call us and make a fast booking for Quarry Cleaning In Adelaide!

Location: 45 Currie St, Adelaide SA 5000
Quarry Cleaning Adelaide
Call us at 08 6835 6085 Quarry Cleaning Adelaide
Location: Adelaide, SA, 5000, Australia