Tile Sealing Service In Adelaide By Experts!
If you are looking for tile cleaning and sealing professionals in Adelaide, then Tims Tile Cleaning Adelaide is your solution. Here we offer the best tile sealing services using eco-friendly options. Our tile sealing experts are masters in making your old tiles and grouts new again. Yes! We have skilled technicians that can solve all your issues related to tiles as per your need.
Our tile sealing experts do exceptional work and will back you and your business and living place with a neat and clean floor. Tile sealing is an advanced and unique method of preventing your tiles from getting stained and maintaining their appearance. Sealing works as a boundary to the tiles and protects them against pollutants, stains, and contaminants.
To provide the greatest tile cleaning and sealing service, our professionals will thoroughly examine the walls and floors. Besides, we also like to give a variety of options for keeping your tiles shiny and intact.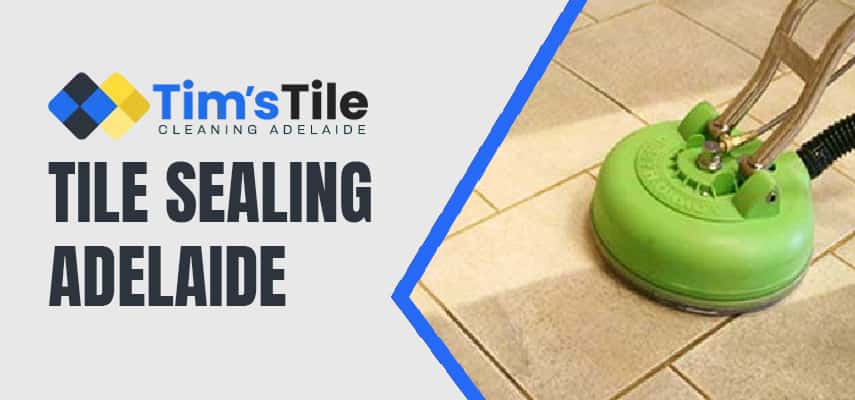 Best Solutions To Seal And Save Your Tiles
Tile sealer is designed to protect tiles from stains. Tiles are usually made from minerals like ceramic or natural stone. The top two options for easily sealing tiles are given below.
Penetrating Sealants: This is the best way to protect your tiles from stains as it penetrates below the tile surface. These sealants have a property which is why they will not change the colour of the tiles. This sealant is absorbed by tiles and grout thus suitable for both floor tiles and wall tiles.
Surface Sealants: Surface sealants have lustrous properties. This sealant helps to give a new shine to your tiles by coating over tiles and grouts. It is made to increase the natural colour and shine of the tile's surface. In addition, you can get this to increase the durability of your expensive tiles by just coating the tile surfaces.
Our Tile Sealing Adelaide team provides exceptional tile sealing services throughout Adelaide. As a result, our experienced tile sealing staff will give you the finest tile with sealing services for various kinds of tiles.
Ceramic Tiles
Concrete Tiles
Limestone Tiles
Marble Tiles
Sandstone Tiles
Slate Tiles
Travertine Tiles
Terracotta Tiles
Terrazzo Tiles
Pavers Tiles
Porcelain Tiles
Natural Stone Tiles
If you want excellent tile sealing services at an affordable price in Adelaide then you should get in touch with us! Our professionals will suggest the best service as per the requirement and ensure that we will prevent oxidation, deterioration, and wear & tear during sealing your tiles and floors. Thus there is no reason to say no to our high-class services!
We Are Among the Excellent Options For Professional Tile Sealing In Adelaide
Tims Tile Cleaning understands the value of hard-earned money, so we offer pre-inspection and tile-sealing services at affordable pricing. You can appoint us for the same day as well as emergency services. We are accessible 24*7 for 365 days a year. All you need is to ring us to fix an appointment for tile sealing and cleaning services.
In addition, our technicians are customer friendly thus feel free to ask about all the problems or anything related to walls and floors. We have extensive experience across specialized tile sealing procedures.
If you would like to discuss your tile cleaning and sealing needs, give us a call at [08 6835 6085].

Location: 45 Currie St, Adelaide SA 5000
Tile Sealing Adelaide
Call us at 08 6835 6085 Tile Sealing Adelaide
Location: Adelaide, SA, 5000, Australia