Granite Cleaning Adelaide, Hire Professionals Now
Granite is a natural stone that is quarried in different parts of the world. It is one of the hardest stones and it can be found in many colours. The most common colours are black, pink, green, and white which can be used to decorate the floor. When granite becomes dirty, it needs to be cleaned with specific cleaning products. And, we provide granite cleaning services Adelaide. We work with the name of Tims Tile Cleaning Adelaide.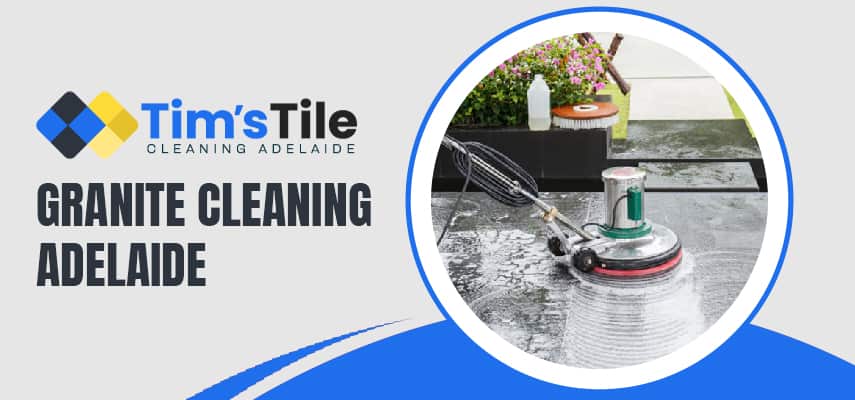 Our Granite Floor Cleaning process is a quick and easy way to clean your floor without the use of harsh chemicals. This process is done by using a machine that has a rotating brush at the end of it that can scrub away dirt, grime, and other unwanted particles from your floor. If you also want to avail the benefits of this cleaning on your granite floor, call us immediately. We will be 24/7 available for Granite Cleaning Adelaide service.
How We Do Granite Cleaning In Adelaide
Granite is a natural stone that has become increasingly popular. This type of stone is extremely durable, but it can be difficult to keep clean. This is how we make your granite floor clean.
Sweep or vacuum the floor: We do sweeping and vacuuming of the floor. This will help to remove any dirt and debris that may have accumulated over time.
Cleaning stains: After the initial cleaning, we prioritise granite floor stain removal. If there are any particles left behind, they could quickly dry and leave behind unsightly stains that are very difficult to remove later on down the line.
Washing or Cleaning: Our professionals clean the granite floor and make sure that our products and cleaning solvents are safe and suitable for the granite floors. We also ensure our customers that our cleaning methods will not affect the colour of their floors.
Drying; We dry the floor and give a final touch to the floor. This will make you happy that you can use your floor instantly after the cleaning. Some steps can be modified according to the floor requirement.
What Are The Benefits Of Our Granite Cleaning Adelaide Services?
Granite is a hard surface that requires regular cleaning and maintenance. If you have a granite floor, you know how difficult it can be to keep it clean. There are many benefits to hiring our professional granite floor cleaning service for your home or business. We use professional-grade equipment and chemicals to provide the perfect cleaning for your floors. The benefits of using our professional granite floor cleaning service include:
Eliminating the need for scrubbing and polishing
Protecting against dirt and spills
Preventing damage to the stone surface
Extending the lifespan of your granite floor
Improving the air quality by removing dust and germs
Keeping the floor in suitable condition for longer
Reducing the risk of injury to oneself or others.
The natural stone used in many homes and buildings requires professional cleaning. If you want to keep your home looking fresh and new, then you should invest in a professional cleaning service. So, call us and make a fast booking for Granite Cleaning in Adelaide.
Why You Need Our Professional Granite Cleaning Team
At Tims Tile Cleaning Adelaide, to provide the best and most professional tile cleaning services we use the right tools to clean your stone surfaces. This includes an array of products that are specifically designed for natural stone surfaces. The most important thing is that you are hiring a licensed and insured company for your Adelaide Granite Cleaning needs. We have the proper license to serve in both commercial and residential places.
Our professional granite cleaning Adelaide services are available for you 24 hours a day 7 days a week. You may require emergency cleaning. So, we do fast cleaning and offer emergency granite cleaning services. You can call our professional tile cleaners at any time and they will be there to help you with your needs.
Get free quotes as well as a discount on your first booking with us for Granite Cleaning in Adelaide.

Location: 45 Currie St, Adelaide SA 5000
Granite Cleaning Adelaide
Call us at 08 6835 6085 Granite Cleaning Adelaide
Location: Adelaide, SA, 5000, Australia