Natural stone restoration is the way of restoring, repairing or correcting the damage caused by pollution and deterioration. Natural stone restoration Adelaide can be carried out on any type of natural stone.
Marble – The most popular natural stone in the world. It is a highly durable material that will withstand even the toughest weather conditions and environments. Marble is also known for its beauty and elegance, making it an ideal choice for interior design projects.
Limestone – Limestone is a type of rock composed of calcium carbonate (CaCO3). This solid mineral can be found in many areas across the world and has been used for centuries as a building material due to its strength and durability.
Granite – Granite is one of nature's strongest materials, making it ideal for outdoor applications such as countertops or fireplace surrounds. Granite is also resistant to temperature extremes and other environmental factors, which makes it an exceptional choice for new construction projects where durability and quality are important factors.
To get any Natural Stone Restoration Adelaide or cleaning services, contact Tims Tile Cleaning Adelaide.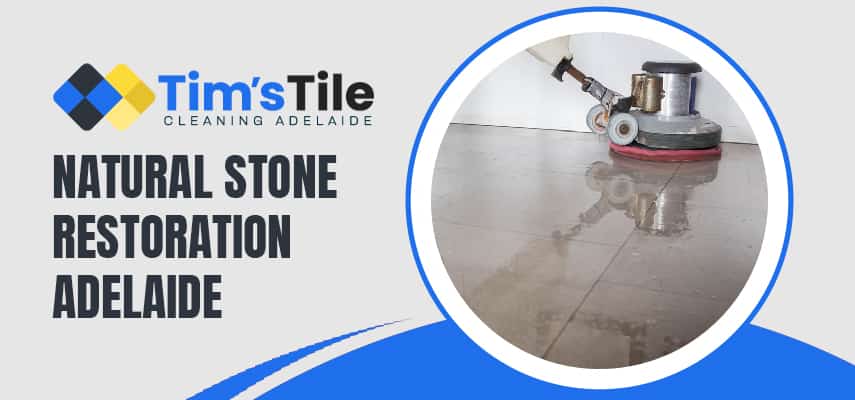 How We Perform Natural Stone Restoration in Adelaide
Natural Stone Restoration is a process of making the stone look like new. It is an important step in restoring the architectural integrity of a building. Stone restoration can be done by hand or by machine but hiring professional service has been the best option.
Stone restoration is a very delicate process and it should be handled with professional care. We do it full of professionalism. Our experienced professional understands the intricacies involved in this process. Our good stone restorer not only knows about the tools and techniques to use but also about the environmental conditions that are required for this job to be completed successfully.
In the first step of the natural stone restoration process, we remove any loose or flaking material from the surface of the stone. Our Floor Restoration Specialists use an air chisel, hammer and chisel or a rotary tool with an abrasive wheel. Once this has been completed, we remove any remaining polish on the surface of the stone by using a wire brush or sandpaper. Then, our professionals apply some sealant onto the surface of this natural stone surface so that it does not get damaged by moisture or other substances in future.
What Benefits You Will Avail From Professional Natural Stone Restoration Service
Natural stone restoration services provide the best way to restore natural stone surfaces and make them look new again. The restoration process is not a difficult one, but it requires a lot of time and patience. But when you see the benefits you will be happy to see that there are so many benefits you can get with Natural Stone Restoration.
Long-term use of natural stone floor
Improves the air quality
Saves your time and money
Give a better appearance
Support productivity because of cozy walk-on cleaned and improved stone floor
Best results without any mess
No hectic cleaning or restoration process
Fast service you can get from our company's experts. So, contact us or call us when you have options to get many facilities under one roof.
Why Tim's Tile Cleaning Adelaide Is Best for Natural Stone Restoration
Natural stone restoration is the art and science of restoring worn, damaged or stained stone surfaces. The goal of natural stone restoration is to restore the natural appearance of your stone without removing paint or stain. We ensure that you will not find like us as we offer many facilities with our Natural Stone Restoration Adelaide Service.
Natural stone restoration services are commonly used on homes and businesses that have been painted with conventional house paints such as latex, oil-based paints, liquid chalk and water-based paints. So, we offer both residential and commercial natural stone restoration treatment.
Natural stone restoration can be done on a wide variety of surfaces – walls, floors, patios and stairs. For your goodness and comfort, we handle all types of related jobs.
The natural stone restoration process involves cleaning the surface of existing stains, removing existing paint and sealant and then applying new colour and sealant directly to the stone. In the whole process, we use eco-friendly machines and quality products so that you can get the best results.
We are 24/7 hours ready to provide you with the facilities of Natural Stone Restoration. We repair, restore and rejuvenate the look of any stone surface when you call us for Emergency Natural Stone Restoration Adelaide service.
The more interesting point is that you can get our free quotes and free advice on Natural Stone Restoration Adelaide requirements. We also give discounts on your first booking and regular stone floor cleaning services.

Location: 45 Currie St, Adelaide SA 5000
Natural Stone Restoration Adelaide
Call us at 08 6835 6085 Natural Stone Restoration Adelaide
Location: Adelaide, SA, 5000, Australia