Things That'll Help Make Your Messy Floor Nearly Unrecognizably Clean
It is very important to keep your home neat and clean. Right from the exteriors of your home to the interiors of your home, everything should be clean. Cleanliness makes your home more presentable and it also prevents serious diseases. It can be a bit of a challenge to keep your home, especially the floor, neat and clean always. No matter how you try to keep your floor clean, it anyhow becomes messy and dirty at the end. Either it is your kids that create a mess or your cats and dogs. Dirt is evident when you live in a house. However, what steps you take to clear this mess is important. Check What Will Make Messy Floor Nearly Unrecognizably Clean.
Today, we help you clean your floor and make it look as unrecognizable and clean as new. Our Tile and grout cleaning experts share some amazing tips that will help you in keeping your flooring neat and clean. Learn the secrets for cleaning all kinds of floors, be it wood or tiles from our experts. Dive into this blog to understand all kinds of cleaning tips.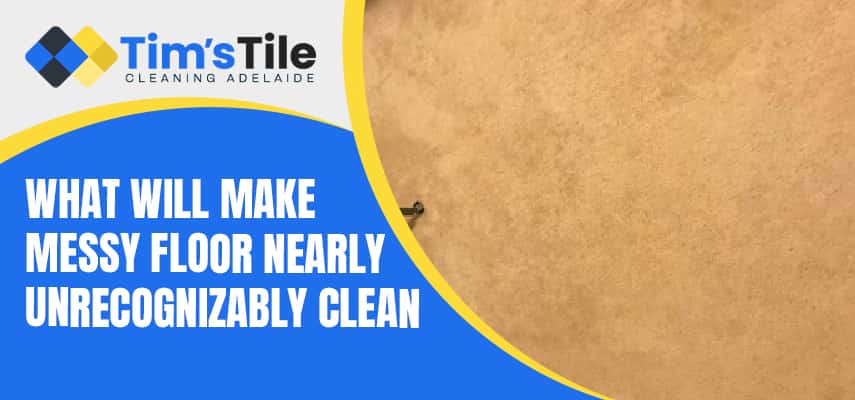 Tips to Keep Your Floors Clean and Neat
Obviously, not all tiles and floors are the same. Every type of tile needs a different cleaning method and care. That is why we enlist the various types of tiles and things you can do to keep them clean. Here is everything that you need to know about tiles and their cleaning techniques.
Laminate floors cleaning- Laminate floors are quite similar to hardwood floors or natural stone floors. However, they must be taken care of as a laminate itself. First things first, vacuum and dust your laminate floor with a damp cloth or mop. Saying that we strongly oppose over-wetting or soaking of the laminate floors. One more important thing is never to use a soap-based detergent and wax for such tiles. They leave a film over them and make them slippery. Use diluted vinegar and water solution for treating stains. Always use mild products and detergents for laminate flooring. Use felt pads under your furniture and plant pots to protect your floor.
Hardwood floors cleaning- Hardwood floors are usually coated with wax or polyurethane after installation. Such coated and sealed wooden floors can only be swept or dusted, they cannot be dampened. If you use a lot of water, it can cause the wood to swell and even break. Because your wooden floor is waxed, most of the dust and dirt will get attracted to the floor. If such a thing happens, you would have to remove all the wax first, and then clean the floor completely. What you can do is use a wet cloth dipped in white spirit, put it on the floor and remove it using a newspaper. After that, mop the floor with clean water and let it dry.
Vinyl floors cleaning- Vinyl flooring is a synthetic material used for flooring. It is considered to be the most affordable and durable type of flooring material as it is also very easy to install. Usually, start by sweeping this with a soft brush and then wipe off with a wet cloth, using only a mild detergent for cleaning. Now, rinse properly after cleaning the whole vinyl flooring. You can also use steam cleaning to clean the vinyl floors.
Cork floor cleaning- Cork floors are quite in a rage right now. This is because they are made in different designs which look beautiful but cork is very porous too. And due to this same quality of porosity, cork flooring can cause a lot of water damage and inconvenience to a homeowner. Most of the time cork floors are sealed because they absorb all the liquid and result in damage. Better vacuum regularly to prevent scratches on the seal and also clear the stains or spills immediately.
Do You Need Experts For Cleaning Messy Floor?
If you have come across any problem dealing with the above-mentioned tiles and the cleaning hacks that we have given, then contact us. Our agency, Tims tile cleaning Adelaide is a reputed tile and grout service provider. People often won't be able to dedicate as much time to their floors. Hence, we are always available to help you out regarding the same. Our staff have Certificate III in Cleaning Operations.