Importance of Cleaning & Sealing Grout
The spaces in between the tiles are filled with a material known as grout which keeps the tiles together in place. The grout is responsible for tracking dirt and dust particles and even some harmful bacteria. Routine cleaning of grout will enable one to maintain proper hygiene and minimize health issues to a great extent. On the other hand, sealing the grout will prevent the formation of mildew and mould and prevent any sort of damage. To preserve the original state and texture of the grout, make sure that the steps below are followed properly.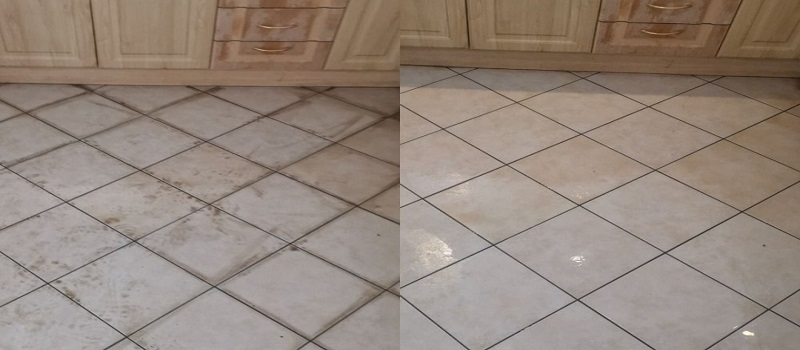 How To Clean Grout
There are different methods for clean and seal grout. Before any cleaning agent is applied to a larger area, it must be tested on a small or hidden area to ensure that it doesn't affect the surface.
For people who are allergic to toxic chemicals, there are certain homemade treatments that can be chosen that are safe and cost-effective.
Dish soap is known to be quite effective in cleaning grout. Add warm water to create a solution and apply it to the grout to get rid of dirt and unwanted particles.
There are a few kitchen ingredients that work well against stains and dirt in the grout. Baking soda is one of them. Apply the mixture of baking soda and water and keep it for a few hours. Then remove it completely to make your grout appear clean and hygienic.
Another kitchen ingredient that can be used is vinegar. Add some vinegar to the water to form a mild solution. Next, apply it to the dirty grout and leave it there for some time. Clean the area with a cloth to make sure there is nothing left on the floor.
If you wish to buy grout cleaning agents from stores, then go for oxygen bleach or steam cleaners. Oxygen bleach is said to be quite effective when it comes to breaking down heavy stains. But make sure you follow the instructions given in the product container as these chemicals can have negative impacts on your flooring. When you try grout steam cleaning, ensure that you are applying the hot steam properly on the grout lines to clean and seal grout. The high temperature and pressure will extract the unwanted matter including any bacteria that are trapped in those gaps.
But you need to keep a few things in mind if your floor is made from marble or any other stone. Any acidic solution can cause permanent damage to these surfaces, hence avoid using such products on the grout. While vinegar and oxygen bleach can be productive in other floorings, they are not suitable for stone tiles at all. You can simply use soap water solution on the grout and rub well using a cloth. You may also use any cleaning solution available in stores, but make sure you check the composition before purchasing the product to clean and seal the grout. To make your grout cleaning job easy you can take the help of professional grout cleaners in Adelaide.
Tips For Sealing Grout
Sealing is an important step post-cleaning and it should not be neglected.
To start with, select the type of applicator based on the amount of area you want to cover and the area of application. There are different methods by which sealing can be done.
This sealing is not permanent as these can get damaged with time. You need to apply a new sealing in those cases to protect your grout from damage. But make sure that the grout is properly cleaned before sealing.
Don't cover the entire floor in one go. Apply in small portions which can be completed in a few minutes each and then proceed further.
Never apply the second layer of coating unless the first layer has dried. Also, once the entire sealing is complete make sure that it is kept for drying for a few hours before using it.
Make sure that the sealer doesn't come in contact with the tile. If it happens soak it with an extra sealer and clean it using paper wipes.